needlepoint boxes
My grandma taught me how to needlepoint when I was about twelve, and, at the time, the process interested me enough to design and stitch several pictures for gifts. Then I was done. Until I read a review of a
textile show, "Threads"
in 2021 that featured the artist, Steve Reinke, who stitches self-described "doodles;" each one is improvised as he goes along. The results are lively, and they inspired me to take up the needle again.
I primarily use size 18 needlepoint canvas (18 stitches per inch), and have been dyeing threads by hand: pearl cotton and cotton sashiko thread. Most of the needlepoint boxes begin with a theme, sometimes a sketch, and the image evolves and changes as I stitch. To frame them, I make handmade boxes and embed the needlepoints in the lids. They can stand alone as sculptures, or the boxes can hold a keepsake. Each box is wrapped in colors to enhance and to integrate with the image, and together, each project takes about eight or more hours to make.
More photos and a selection of needlepoint boxes are available at
nevermindtheart,
and I blog about them as they are finished at
makinghandmadebooks.blogspot.com
& Many More
(July 2021)
4" square x 2.5"d
Needlepoint canvas, hand-dyed cotton thread, metallic thread, book board, book cloth, hand-dyed velvet
NFS
Rain on the Window
(May 2021)
4" square x 2.5"d
Needlepoint canvas, hand-dyed cotton thread, sashiko thread, metallic thread, book board, book cloth, hand-dyed velvet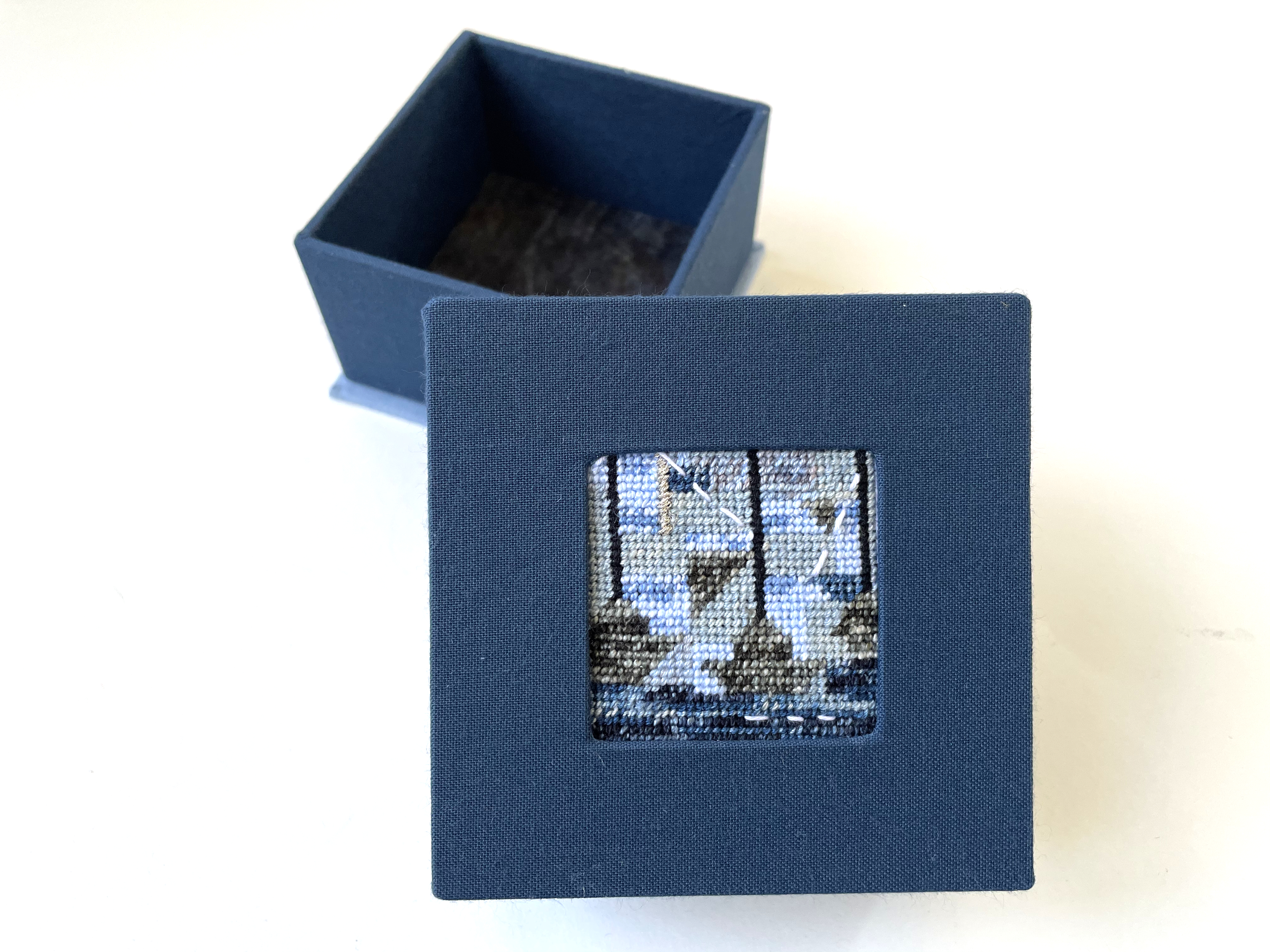 Harbor
(April 2021)
4" square x 2.5"d
Needlepoint canvas, hand-dyed cotton thread, sashiko thread, metallic thread, book board, book cloth, hand-dyed velvet
Moss Treasure
(April 2021)
4" square x 2.5"d
Needlepoint canvas, hand-dyed cotton thread, sashiko thread, metallic thread, book board, book cloth, hand-dyed velvet, hand-dyed cotton fabric
Lace Lichen (As If)
(April 2021)
4" square x 2.5"d
Needlepoint canvas, hand-dyed cotton thread, sashiko thread, book board, book cloth, hand-dyed velvet
SOLD
Monarch (One Day She Wakes Up Orange)
(April 2021)
4" square x 2.5"d
Needlepoint canvas, hand-dyed cotton thread, book board, book cloth, hand-dyed velvet
SOLD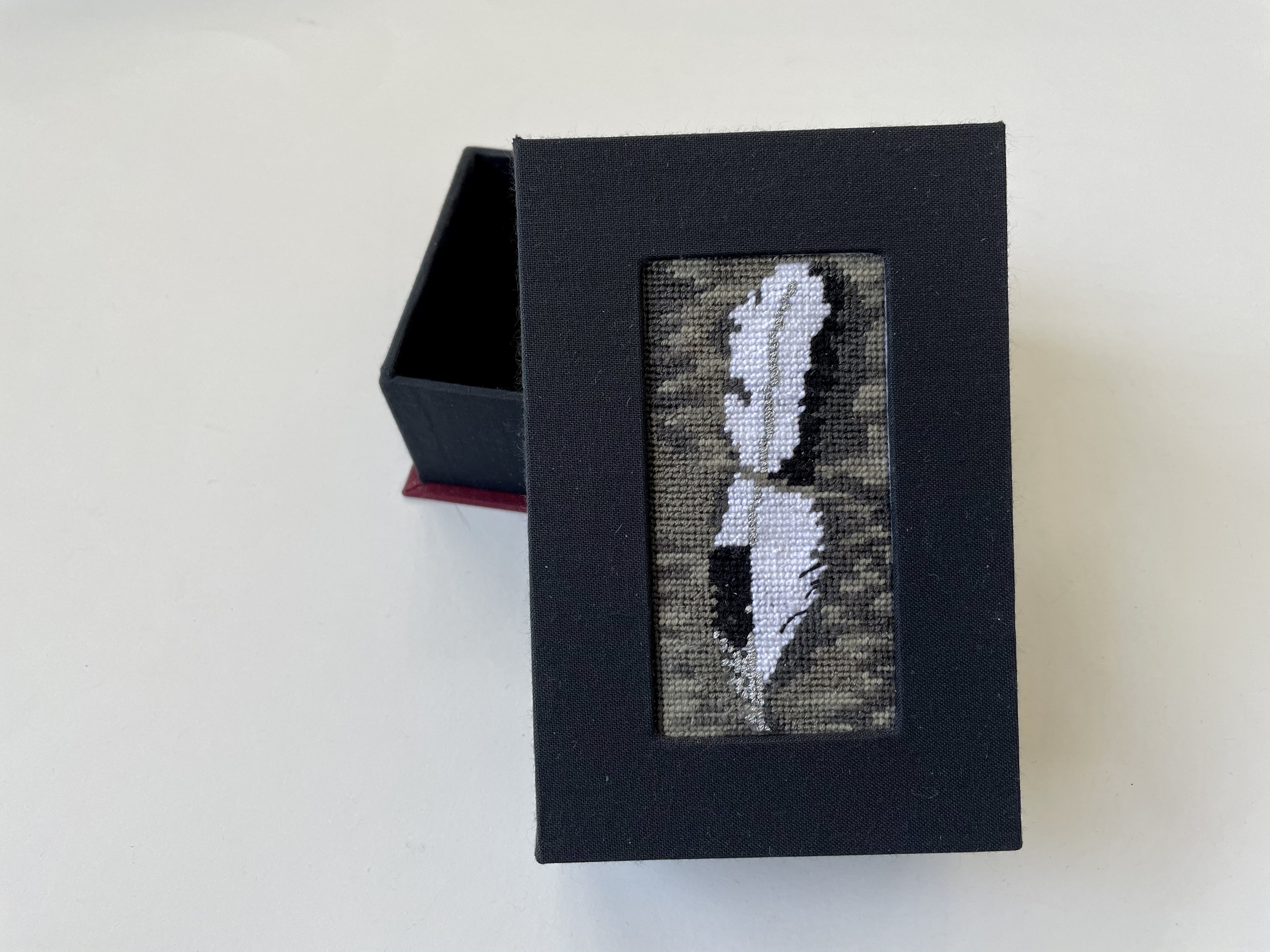 First Feather
(April 2021)
4" x 6" x 2.5"d
Needlepoint canvas, cotton thread, book board, book cloth, metallic silver thread
NFS
Wish
(April 2021)
4" square x 2.5"d
Needlepoint canvas, hand-dyed cotton thread, book board, book cloth, spun feather-down thread
SOLD
Poppy (Everyone's Got to Come from Somewhere)
(April 2021)
4" square x 2.5"d
Needlepoint canvas, hand-dyed cotton thread, book board, book cloth
NFS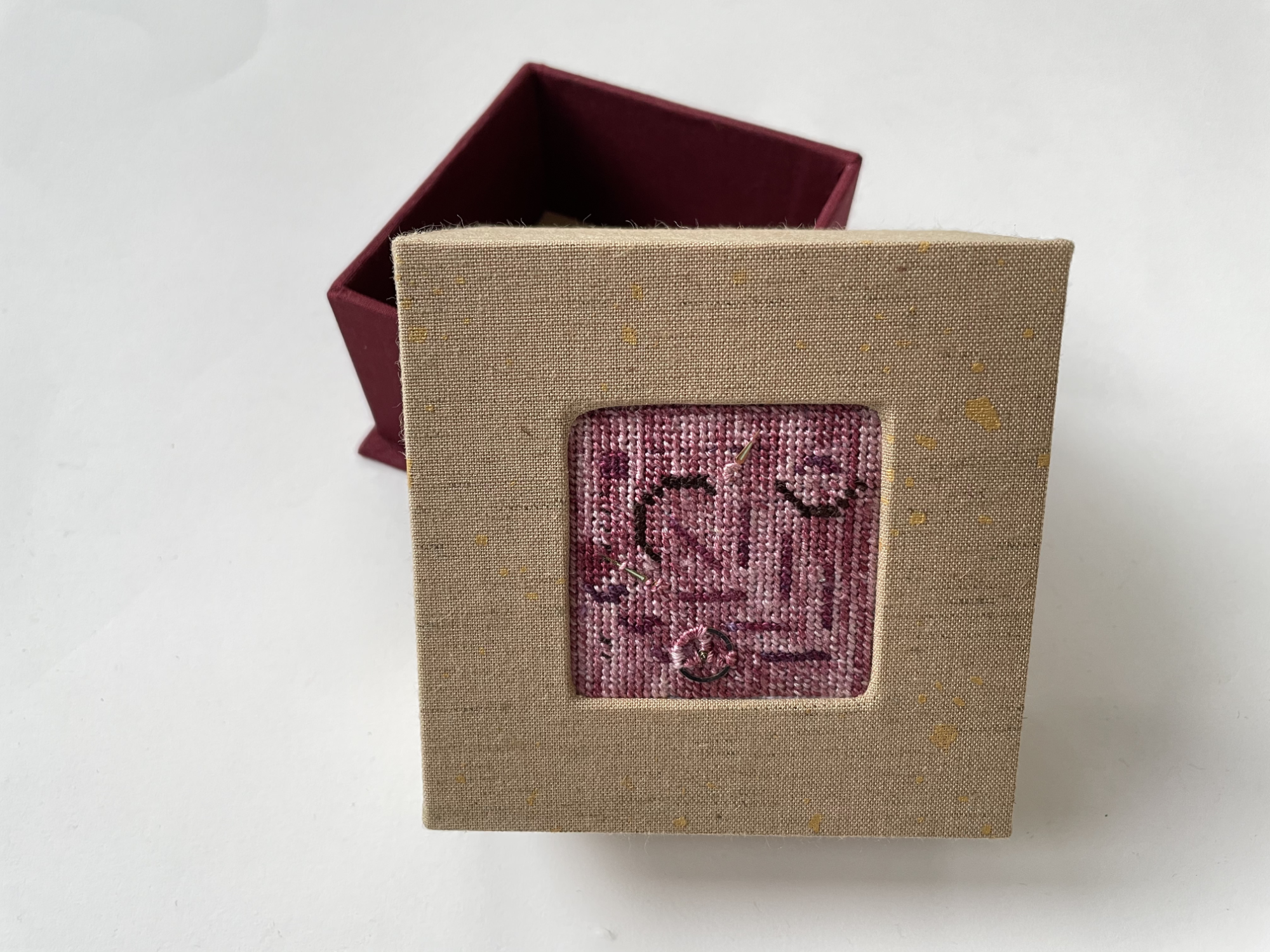 Lost Time
(April 2021)
4" square x 2.5"d
Needlepoint canvas, hand-dyed cotton thread, book board, book cloth, watch parts, hand-stenciled gold flecks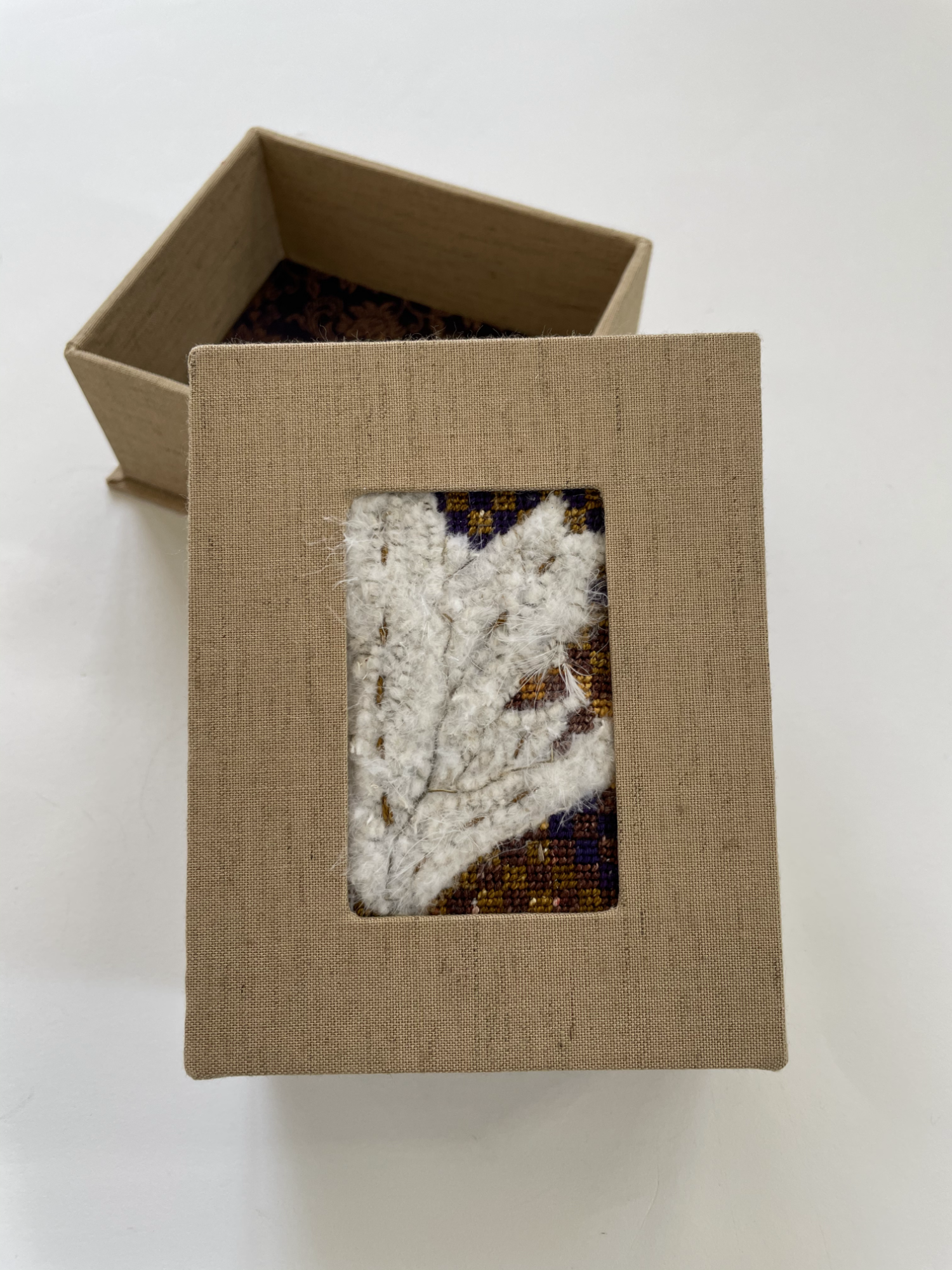 High Feather
(April 2021)
4" x 5" x 2.25"d
Needlepoint canvas, hand-dyed cotton thread, book board, book cloth, spun down-feather thread
SOLD
Magnolia
(April 2021)
4" square x 2.25"d
Needlepoint canvas, hand-dyed cotton thread, book board, book cloth, acrylic ink
SOLD
Migration
(March 2021)
4.25" square x 2.25"d
Needlepoint canvas, cotton thread fragments from my thread jar, book board, book cloth
Ospreys at Home
(March 2021)
4" square x 1.75"d
Needlepoint canvas, cotton thread, book board, book cloth, metallic thread
NFS
Echo
(March 2021)
4" square x 1.75"d
Needlepoint canvas, cotton thread, book board, book cloth, gold paper
NFS
Also see felted quiltworks at
prints and more


© 2021-2022 Alisa Golden, never mind the press